Windows Vista implements a new feature known as Shadow Copy, which creates copies of your personal files at regular intervals and allows you to revive them at will. Or so we all thought.
Unfortunately, while Vista Home Basic and Vista Home Premium versions do back up the files (taking up a significant amount of space on your hard disk), they won't let you see these files or bring them back to the land of the living. In other words, Vista guarantees the safety of your files, unless you actually want those files.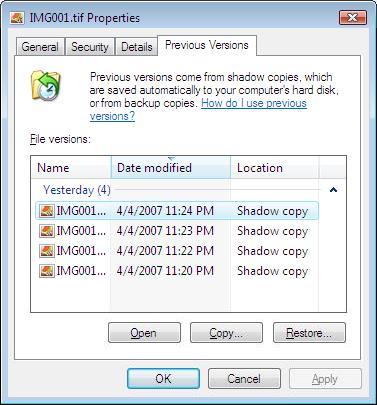 Can't have 'em. They're there, but unavailable to you, the user. I know, it sucks. That's what you get for skimping on your OS. You should have bought Vista Home Premium.
So
this guy
makes a suggestion: Vista Ransom Edition. You have to pay a small fee for each "rescue" of a file. Makes sense with Microsoft's current business model: suck 'em dry.
Labels: microsoft, windows, windows vista